Customer of the month
December, 2013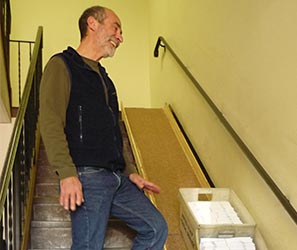 The spotlight this month is on Glenn Davis at DataStar, for his recycling program innovation. Due to tricky office access, Glenn built a ramp to slide boxes of paper down the stairs to ground level for collection. He recently perfected this method by carpeting the ramp to slow the descent, preventing any paper pile-ups. Thanks to Glenn and DataStar for your commitment to recycling and clever ways to keep the program going!
Why Choose Earthworm?
We are a local, mission based, nonprofit organization.
Our office recycling programs are flexible, innovative and affordable.
We take pride in providing a friendly and reliable service.
We make it simple to recycle: free recycling equipment on loan, a simple fee structure, and no contracts.
We were created as a collective, and we continue to value those ideals in our workplace.
Starting in the 70ís, we helped pioneer office recycling in Massachusetts.
Your scrap paper, computers, and bottles & cans support our educational activities as well as our assistance to other local, like-minded nonprofit organizations.