Customer of the month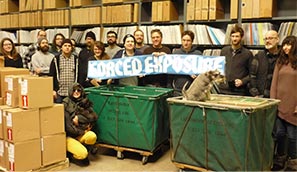 Forced Exposure has been closing the recycling loop with Earthworm since 2006 by buying 100% recycled copy paper from us. Their paper delivery and recycling collections are scheduled on the same day, and in turn, we are able to waive the cost of the recycling pickup. Thank you, Forced Exposure, for your commitment to recycling and your efforts to minimize your carbon footprint by purchasing your recycled paper through Earthworm!
Why Choose Earthworm?
We are a local, mission based, nonprofit organization.
Our office recycling programs are flexible, innovative and affordable.
We take pride in providing a friendly and reliable service.
We make it simple to recycle: free recycling equipment on loan, a simple fee structure, and no contracts.
We were created as a collective, and we continue to value those ideals in our workplace.
Starting in the 70ís, we helped pioneer office recycling in Massachusetts.
Your scrap paper, computers, and bottles & cans support our educational activities as well as our assistance to other local, like-minded nonprofit organizations.